Serori Martini by The Minty
Created by Shuana Der AKA The Minty for a cocktail contest, the Serori Martini is simple to make with only three ingredients but highlights how well kokuto shochus like Nankai can balance savory and subtly sweet flavors.
Instructions
Combine all ingredients with ice in mixing glass.

2 oz Nankai Shochu,

1 oz Carpano Bianco,

2-3 dashes Scrappy's Celery Bitters

Strain into cocktail glass.

Garnish with mint or celery and serve.
Nutrition
Serving:
3
oz
|
Calories:
115
kcal
|
Carbohydrates:
4
g
|
Sugar:
2.3
g
Shauna Der, also known as The Minty, is a well-known blogger and influencer, famous for her food and bar crawls. With her deep knowledge of alcohol, cocktails, and the bar scenes in countless cities, Shauna is a respected industry veteran. And so, we were delighted when she incorporated Nankai Shochu into her recipe submission for the Japan Sake and Shochu Makers Association (JSS) shochu cocktail contest.
We caught up with her via Zoom to chat about her start in the business and her shochu recipe, the Serori Martini.
Nankai Shochu: How did you get into the cocktail business?
The Minty: I've always been into food. My dad used to run a bunch of restaurants in L.A. a long time ago, and he never wanted me to get into the business. But I enjoyed throwing supper clubs, you know, getting friends together for food and drinks. When I started the blog in 2009, I started getting into cocktails, too.
Nankai: Over the course of starting Nankai Shochu, my wife and I have increasingly immersed ourselves into cocktails, too. What was the initial appeal for you?
Minty: I've always been a history buff, and I loved the whole romantic notion of pre-Prohibition cocktails— to the point where I even took classes, like Elemental Mixology with Andrew Willett. It was intense— six weeks with each course being four hours long. And it wasn't really about learning to make these drinks— it was more about learning how to think about making drinks.
Nankai: More theory than learning specific recipes?
Minty: Exactly. I remember the final class was this Iron Chef-style competition. We all got mystery ingredients, and you had to come up wth a cocktail on the fly. I got passionfruit shrub, so I wanted to make a Japanese-style yogurt drink. It was almost like a milk punch. That's really where it all started for me.
Nankai: We know what you mean. We love developing and tasting new cocktail ideas. Maybe the pandemic accelerated that. At the start of the pandemic, we were drinking all the time during weird hours. We got to test out a LOT of recipes. How did the pandemic affect your drinking habits?
Minty: Now that we can go out again, I love going out. But I also think, "Hey, I can make this at home, too!" I'm really just going out to see friends, and I'll have one or two cocktails instead of the three or four I used to get.
Nankai: Ahem. Speaking of cocktails, I wanted to talk to you about the incredible Nankai cocktail, the Serori Martini, you made for the JSS Cocktail Contest. How did you find using Nankai?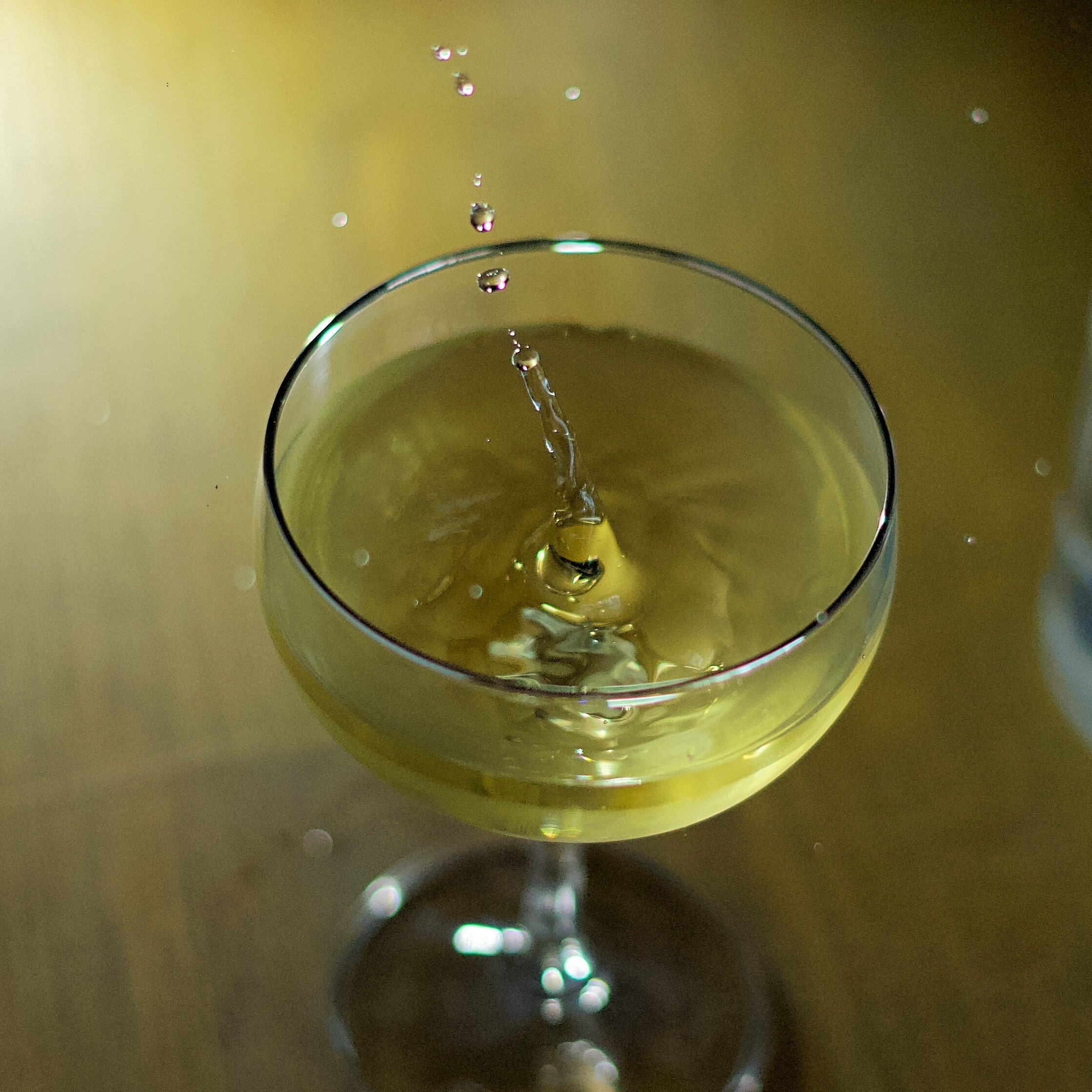 Minty: Oh, it was so easy. At first, I was thinking of a lot of different ideas, like something tropical or blah blah. But in the end, I think my mixing style boils down to simplicity, and there's nothing more simple than a martini. I've been tending toward more savory sweet martinis these days— I mean, nothing atrocious like a lychee martini but something not as dry.
Nankai: The Nankai with Carpano Bianco and celery bitters is just so easy to drink. The flavors were really well balanced. What was your first exposure to shochu?
Minty: You know, it was probably at a restaurant. I've gone to a lot of Japanese restaurants where I've often enjoyed it neat. But I became more interested in shochu after all the seminars hosted at Japan House and the Japanese Consulate General…
Nankai: At his house, right? Which is where I think we met the first time?
Minty: Yes, it was at his house, and we had to be careful not to disclose the location. (Laugh)
Nankai: And these events helped you think of shochu and awamori in a new way?
Minty: Exactly. And I like that you can enjoy more of it. Like, instead of one whiskey, I can have a couple of shochus, because typically they are lower proof. And then if I'm having shochu cocktails, that just extends my "sociability."
Nankai: Are you actively switching to lower proof alcohol and cocktails now?
Minty: I wouldn't say I'm consciously choosing something lower proof, but I do like being able to hang out longer than the hour I might nurse one regular cocktail.
Nankai: Do you feel there's more of an opportunity for shochu in cocktails in the future?
Minty: For sure! I think L.A. is a very cosmopolitan city with influences from a lot of cultures. People are very curious and open-minded about different things these days.
Nankai: We're staking everything on that hope. (Laugh) Thank you so much, Shauna, for the lovely recipe and for this chat!
More Cocktails Like the Serori Martini: